YOUNG PROFESSIONALS GROUP
The Big Brothers Big Sisters of Eastern Massachusetts's Young Professionals is a diverse group of emerging leaders enthusiastic about our mission of helping transform the lives of children in our community. Each member makes Big Brothers Big Sisters of Eastern Massachusetts one of their top philanthropic priorities. As a group, their primary role is to act as ambassadors with a goal of increasing awareness, volunteerism and support for the organization.
---
The BBBS YPG Focus
• Raising awareness for the services that BBBS provides to local families, and the need for mentors
• Volunteering our time as a mentor or at Match events
• Planning fundraising, networking and social events
Commitment
YPG Members commit a yearly donation of $250 that can be broken out into monthly installments
Benefits
By joining the BBBS Young Professionals Group, you will gain access to unique opportunities to connect with our mission and work. By opting into the YPG, you will receive:
• Invitations to quarterly YPG networking gatherings
• Invitations to other BBBS EMass activities and events; and access to pre-sale tickets for all YPG events
• Opportunities to assist in the planning of Casino Night and other YPG-hosted events
• Notification of volunteer opportunities
We welcome professionals of all genders from the public, private, and nonprofit sectors into the YPG.
Click "Join Today" below to register!
For questions, please reach out to Kate Peterson at kpeterson@emassbigs.org or call 617-956-0251.
EXECUTIVE COMMITTEE CO-CHAIRS
Peter A. DeFalco, II Refinitiv
Devon Goodall, LPL Financial
EXECUTIVE COMMITTEE
Tomas Aponte, Bottom Line
Joe Bradlee, Pawtucket Red Sox
Bobby Alvarado, Newmark Knight Frank
Jake Cohen, Huron Consulting Group
Evan Comer, KPMG
Kyle Doherty, Guidepoint
Dan Driscoll, Colliers International
Sara Driscoll, Compass
Ngoc Duong, Advent International
Jennifer Dwyer, Columbia Threadneedle
Elizabeth Elcock, Office Resources, Inc
Kelsey Gauger, Suffolk Construction
Kelly Gross, Brand Content
Angela Jong, TA Associates
Jennifer Minerva, Wayfair
Anne Neylon, BNY Mellon
Lenny Pierce, JLL
Chris Scharff, Waterstone Properties
Nick Schneider, Bernkopf Goodman LLP
Jay Scuteri, BPEA
Ethan Sobel, Boston University Hillel
Sal Visali, GID Investments
Kevin Wang, .406 Ventures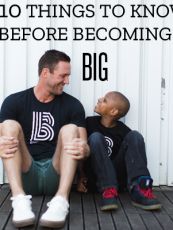 Free Fact Sheet
10 Things to Know Before Becoming a Big
Download this essential fact sheet to help prep for the volunteering process.
Get the Free Fact Sheet
Free Ebook
First 7 Activities As a Big
Download this essential fact sheet for activity ideas that will help you and your Little get to know each other!
Get the Free Ebook