Strengthening relationships between law enforcement and the communities they serve, one match at a time.
Bigs in Blue is a one-to-one mentoring program that connects youth with police in communities throughout our nation, building strong, trusting, lasting relationships. These relationships can help build stronger bonds between law enforcement and the families they serve. We are pleased to roll out this initiative across Massachusetts Bay and looking for officers and police departments to get involved. Learn more by asking us a question or signing up to volunteer.
---
Bigs in Blue uplift their community through mentorship.
It can be playing catch at the park or grabbing a bite from a food truck; the simple stuff kids want to do. More than that, Bigs in Blue enable children to get an early understanding that police are a positive presence in the community and that they are good people. With just a one-year commitment, a Big in Blue can make a huge impact on the life of a Little Brother or Little Sister as well as the community at large.
Catch a new flick together

Grab a bite to eat

Play a fun board game

Have a catch in the park

Just hang out and joke around
We recently launched the first Bigs in Blue program in Massachusetts with the Barnstable Police Department!
"Early on, the children can build a trusting relationship with the police. They may be seeing them (the police) in the future in the community or in their own homes, and they will know they are there to help and they shouldn't be scared." —Jennifer Malone, an adjustment counselor at Hyannis West Elementary
---
We want to make your decision to volunteer an easy one.
Have a question?
Our team is standing by and available to answer any questions you may have before applying.
Ask A Question
Apply Now
Learn more about being a Big in Blue by applying now. We'll follow up within a few days!
Apply Now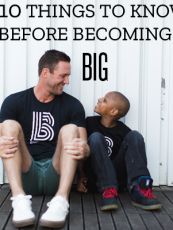 Free Fact Sheet
10 Things to Know Before Becoming a Big
Download this essential fact sheet to help prep for the volunteering process.
Get the Free Fact Sheet