You'll be hanging out with your Little in a few easy steps.
The first step to becoming a Big is to submit the online application and references. We'll review and set up a 60-90 minute meeting to get to know you better. Then, we consider how well your skills and interests match those of youth on our waiting list. After discussing a potential friendship with you and the family, we set a date for you and the youth to meet! It takes 3-5 weeks to be matched after your interview.
The 4 Step Process
Ready to complete the online application to become a Big?
Apply Now
Want to Speed Up the Process?
Deciding to become a Big is exciting. The process doesn't take long, but you can speed it up by completing the forms below and bringing them to your interview. They help us get to know you better and find the right match for you!
---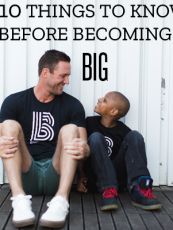 Free Fact Sheet
10 Things to Know Before Becoming a Big
Download this essential fact sheet to help prep for the volunteering process.
Get the Free Fact Sheet