Start changing a life. It will change yours too!
All children should have a chance to thrive. Some kids need someone to help them along that path. Turns out doing something important can be incredibly simple. With Latino and Spanish-speaking youth waiting for a Big, there has never been a better time to volunteer as a mentor. It'll be fun and rewarding. And our professionally trained staff will be there to support you every step of the way.
¡Necesitamos De Todos Ustedes!
We seek to increase our recruitment of Latino and Spanish-speaking volunteers for a variety of reasons. For example, it is important in our service model that the adult volunteer can communicate effectively with the youth's family. As a result, youth in families where the adults do not speak English often go unserved. Children need a boost of confidence and self-esteem and your encouragement can change their lives forever.
Consejos de vida pueden venir de muchas formas.
Cities and towns with the highest numbers of Hispanic/Latino youth served and highest wait list include: Roxbury, Dorchester, East Boston, South End, South Boston, Brighton, Jamaica Plain, Waltham, Cambridge, Charlestown, Roslindale, Quincy, Allston, Chelsea, Hyde Park, Revere, Lynn, and Everett.
Only 10% of our Hispanic/Latino youth are matched with a Hispanic/Latino Big

We have grown service to Hispanic/Latino youth by 65% in the past four years

We currently serve over 800 Hispanic/Latino youth in one-to-one mentoring relationships, close to 35% of our total service population
---
Impact on Little
Research confirms that quality mentoring relationships have powerful positive effects on young people in a variety of personal, academic and professional situations.
said they learned right from wrong from their Big
reported doing better in school because of their Big
more likely to enroll in college
Increased competence, confidence, character, connection and caring
Decreased likelihood of skipping school
Increased trust in adults
90% said relationship with their Big helped them make better choices throughout their childhood
42% less likely to get involved in illegal drugs
27% less likely to start drinking
Impact on Big
Mentoring relationships are a shared opportunity for learning and growth. Many Bigs say that the rewards they gain are just as substantial as the ones gained by their Littles.
Have fun!
Achieve personal growth and learn more about themselves
Improve their self-esteem and feel they are making a difference
Gain a better understanding of other cultures and develop a greater appreciation for diversity
Feel more productive and have a better attitude at work
Enhance their relationships with their own children
"This is the best way to volunteer and make an impact in the lives of others and you can have fun at the same time. You won't feel like a volunteer, instead you'll be looking forward to hanging out with your new friend who will do as much for you as you do for him. A Little is a friend that will give you the most sincere friendship that you will ever have." – Big Brother, Octavio
Check out the full blog feature here!
---
We want to make your decision to volunteer an easy one.
Have a question?
Our team is standing by and available to answer any questions you may have before applying.
Ask A Question
Apply Now
Learn more about being a Latino Big by applying now. We'll follow up within a few days!
Apply Now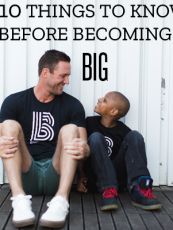 Free Fact Sheet
10 Things to Know Before Becoming a Big
Download this essential fact sheet to help prep for the volunteering process.
Get the Free Fact Sheet