Winter is Coming: 10 Indoor Activities For Your Match
Brace yourselves Bigs and Littles…Winter is coming. We know that this time of the year can be tough to find things to do. Gone are the sunny summer days where you can spend a whole outing outdoors. So, we put together a list of indoor activity ideas for outings to help get you and your Little through the dog days of winter. 
1. Test your problem-solving skills at Room Escapers
Room Escapers, located right off the Haymarket T stop, is a mystery escape room that you and your Little are sure to have a blast at. The two of you will work together to solve puzzles and make your way out of the room. It is a great bonding experience and a fun way to spend quality time together indoors.
2. Have a movie night
No matter how old you get, movie night's will never get old. Pop your own popcorn and hang in for a cheaper and more comfortable experience. Also, switch off each time with who selects the movie so you can experience some of each other's favorite. Watch The Sandlot one month, and then The Lego Movie the next!
Located just north of Boston in Woburn, MA, LazerCraze is laser tag center and arcade that will surely get you through the brisk days of winter. You and your Little are sure to bond as you team up to create an unstoppable laser duo.
Also, as a partner of BBBSMB, matches can get buy one, get one free voucher to play. Ask your match support specialist to learn more and redeem!
4. Create your own 'Saturday Night Live' skits
Developing a sketch with your Little is a great way to encourage them to show their creative side and just something you will always be able to look back on and laugh at.
Grab a notepad and brainstorm funny sketch ideas that you and your Little come up with, then just hit record on your iPhone and see how it comes out.
Indoor rock climbing is a really fun experience, and also a good exercise opportunity for the Winter. This is also a great opportunity to take the two of you out of your comfort zone. Climbing can be a little intimidating, but once you reach the top it feels all worth it.
Also, as a partner, Bigs & Littles receive discounted prices. Ask your match support specialist to learn more about how to climb!
Grab your lab coats and goggles and head to the lab (kitchen) for some science experiments with your Little. Not only will this be fun for the both of you, it is also a good chance to have an educational outing to show your Little that learning can be fun.
7. Get in shape at the gym
Don't go into hibernation this Winter. Get a gym membership with your Little and stay in shape together. If you have experience yourself, try to teach them the proper ways to lift weights and use the many intimidating machines.
Also, as a partner, the YMCA and BCYF offers free admission to all matches. Check with your match support specialist for how to get in!
8. Write a song together
You don't need to know a musical instrument or even how to sing to become a musician nowadays. All you need is the creativeness of a Big and Little together to create some lyrics and a beat to reach the top of the charts. Whether you two like rock, rap, or country, you can make a song together that you'll look back and enjoy (or laugh at).
9. Get your learn on at one of Boston's many Museums
Boston is home to countless museums. Museum of Fine Arts, Boston Children's Museum, Museum of Science, and the list goes on and on. This is a great opportunity to have an educational outing with your Little that is also lots of fun! Also, don't forget to ask your match support specialist for special offers on these museums!
10. Start a blog together
At the end of your outing, get together on your phone or laptop and share with the world what your bi-monthly adventure with your Little was like. Have each of you give a funny moment, and what you guys look forward to doing on your next outing! This is a good chance to get your Little interested in writing, as well as just spreading the word about how awesome it is to be a Big Brother!
Save
Save
Save
Free Fact Sheet
10 Things for Parents to Know
Children s safety is our number one priority; throughout the duration of the match, not just the beginning!
Get the Free Fact Sheet
---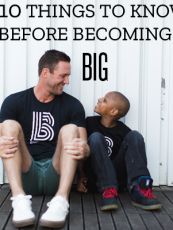 Free Fact Sheet
10 Things to Know Before Becoming a Big
Download this essential fact sheet to help prep for the volunteering process.
Get the Free Fact Sheet