Mentoring on The Cape: Big Sister Anne Finds Time to Give Back
Big Sister Anne knew that she wanted to give back to her community and become a Big. However, she wasn't sure if it could fit into her schedule between work and keeping up with 3 teenage boys. As we normally say, there is always enough time to 'Add a Little' and one of the Cape's site-based programs were able to fit her schedule perfectly.
We sat down with Anne, the Executive Director of Cape Cod Young Professionals, at the Shape Your Cape Summit to learn about why she wanted to become a Big Sister and all about her match with Mackenzie. Read on to see why mentoring on the cape really does matter!
What helped you decide to become a Big Sister?
I was hearing more and more from people who were Big Brothers and Big Sisters and hearing more about it.  I kept thinking it was something I wanted to do but never felt like I really had time to do it. Sometimes things just fall into place, and it was really the school, the in-school experience, the site-based program that I thought, I can absolutely make that work. And it just became obvious that the timing was right, and it was something I was ready to do and excited to do and I had heard from so many people what a great thing it was to do.  And just as an aside, I was a Big Sister way-back-when, when I was in college.  I have three teenage boys, so I thought it would be delightful to have this experience and the timing just worked out.
I think too, the idea of being a Big Sister, it was so outside of the work-week, and on the weekends, and having my own three busy three children, the weekends are full of sports, I never felt like that was even an option for me, because of the intensity of my life, inside and outside of work.  And so this was just so simple, of course I can take an hour of my week and go and be with her. Knowing too that she's not going to want to go to sports all weekend, and that didn't feel like it would be a fair thing to do.  And that's been my weekend life, for you know, years, just going to sports.
I do find when I'm there, even though it's just one hour, I feel like I'm so 100% present with her, and I'm not thinking about work, I'm not thinking about home, I'm just 100% focused on her and I love it.  It's so rewarding to me, the experience and just being with her.  Every time I come back, she is hilarious. She's a riot. She just makes me belly-laugh so I enjoy it.  It's really manageable.
What hesitations or questions did you have prior to signing up?
I think there was some concern, is this going to be a good fit and am I going to be someone she needs. All of that went away as soon as I met her, but there weren't really any concerns or hesitations. I think as soon as you commit to signing up – I know for me I was all in, I was committed to doing it, there were no hurdles at that point.  I was excited but mostly wanted to make sure we were a good fit. And immediately we just hit it off.
What was your first meeting with Mackenzie like?
It was great, it felt very natural and easy.  Ryan, our coordinator, did a fantastic job.  She was comfortable with him and so was I, and that made it feel like a very natural meeting.  Our personalities worked really well, and we were happy and excited by the end of the first meeting.  It went great.  I don't know how everybody else's meetings go, but I feel like when the Little is excited and the Big is excited it's a win-win.
I was worried I was going to get someone really really quiet and introverted and it was going to be a bit of a challenge to draw her out, and it's the opposite.  She is overt and open, and wears her heart on her sleeve, she is adorable.  She's a delight, she really is, and she's funny.
What's been the best part of your friendship so far?
I think we both really enjoy seeing each other. For me it's just rewarding knowing that she looks forward to seeing me and that I've made her smile. The most rewarding part is knowing that I'm making even a small difference for her.  Being a mom, I can imagine for that child to have someone who's only paying attention to just you for an hour is pretty great.  I think our friendship is just that I'm excited to be there and she's excited to have me there.  We just get along. It's really easy and fun.  It's hard to explain what's great about a friendship, but I think it's all those things.
In thinking about a peer-to-peer friendship, that's based on mutual respect, and maybe it's based on some of that, but it's just support I think. We just make each other smile.
How do you fit this into your busy schedule?
It's because of the site-based program, 100%.  It's literally 2 minutes from the office. We all have an hour to get out of the office.  It's just like anything, if you have standing meetings or something standing in your calendar, you just honor it and this is important.  She's counting on me being there and I'm counting on going.  So it's blocked out in my calendar and you make it a priority.  This couldn't be more convenient.  It's convenient and it's in my calendar.  Every once in a while if I have to switch it I just pick a different day and let the school know and they let her know.  You just make it a priority and a commitment.
What advice would you give to someone considering being a Big Brother or Big Sister?
Make sure you can commit to it.  I think that Little is counting on the Big.  If you can put it in your calendar and make it a commitment, it is so worth it. I think if they are even considering it, just to push them over the edge I would just say, make the commitment and you won't regret it.  It comes back to you tenfold in terms of a way to volunteer and make a difference in somebody's life.  It's an hour a week, it's just so doable.  That's my advice.
Free Fact Sheet
10 Things for Parents to Know
Children s safety is our number one priority; throughout the duration of the match, not just the beginning!
Get the Free Fact Sheet
---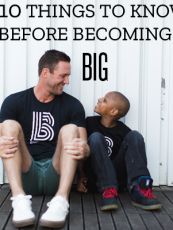 Free Fact Sheet
10 Things to Know Before Becoming a Big
Download this essential fact sheet to help prep for the volunteering process.
Get the Free Fact Sheet