Running for a Cause: Meet Big Brother & Boston Marathon Runner Joe
This year, Big Brothers Big Sisters of Massachusetts Bay is lucky enough to have two AMAZING Boston Marathon runners who just happen to both be BIGs!
At the end of January, Joe and Rishi agreed to train for the 26.2 mile Boston Marathon and to each fundraise $5,000 in just under two and a half months.  We are so grateful to both of them for taking the plunge, and we hope that you will cheer them on the day of the race and support their fundraising efforts for Big Brothers Big Sisters of Massachusetts Bay!
This week, we are highlighting Big Brother Joe. Joe knew for a while that he wanted to run in the Boston Marathon, and when the opportunity came to run for BBBSMB he just simply could not turn it down. Read along to hear about his match with his Little Peter, why he is running for BBBSMB, and don't forget to help him reach his goal of $5,000!
Age: 33
Hometown: Monument, Colorado
Longest run or previous marathons completed: Half Marathon, once.
What songs can we find on your training playlist?
I have been listening to Podcasts….specifically 99% Invisible. Podcasts seem to pass the time better than just music and there's the added bonus of learning things while I run!
Favorite post-run snack?
Gatorade and beef jerky.
What is a typical day of training like for you?
I usually try to get to the gym for strength training in the morning and run in the afternoon and evening. Long run days require pretty much an entire afternoon/evening. Stretching and gearing up, three to four hours of running, soaking in the tub post run and then eating!
What inspired you to run the 2017 Boston Marathon for BBBSMB?
I have wanted to attempt a marathon for a while now. I knew I don't have a qualifying time to enter so I needed to run for a charity. I immediately thought of BBBSMB because I know firsthand what a great organization it is.
Do you have a positive mentor in your life? How has mentoring had an impact on you?
I have a mentor that has helped me tremendously in my professional life. It makes all the difference to know that you have someone there to help guide you.
Why did you decide to become a mentor?
I was looking for a way to give back to my community. I liked the idea of connecting with a younger generation (I don't have any children of my own and my world doesn't collide with the younger generations often). I really liked the idea of having an ongoing mentorship. Building a relationship seemed like it would be much more rewarding and purposeful than short term volunteering.
What are some of your favorite things to do with your Little? Favorite memory?
Fishing is Peter's and my favorite thing to do. My favorite memory has to be Peter catching a 5 pound bass lake fishing in New Hampshire.
How have you seen your relationship grow from when you two first met?
Absolutely. The past four and a half years have seen us both growing up and learning from each other. It is inspirational to see Peter grow up and continue to develop to be the great person that he is.
What has been the most rewarding part of training for the Boston Marathon?
Eating. Eating everything.
How are you going to celebrate finishing the Boston Marathon?
Eating. Eating everything.
Free Fact Sheet
10 Things for Parents to Know
Children s safety is our number one priority; throughout the duration of the match, not just the beginning!
Get the Free Fact Sheet
---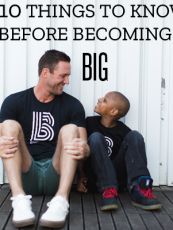 Free Fact Sheet
10 Things to Know Before Becoming a Big
Download this essential fact sheet to help prep for the volunteering process.
Get the Free Fact Sheet