10 Reasons College Students Should Become Mentors
Becoming a Big in college (or any time, for that matter) is one of the best volunteer opportunities you can pursue. It's an awesome experience that provides you with lessons that can be applied in the classroom, workplace, and even your personal life. Read on to hear just 10 of the many reasons why you should Add A Little this college season!
1. It's Not as Time Consuming as You Think
Through the Site-Based Program, you only meet with your Little for 40-60 minutes once a week. We work with 18 different Elementary Schools so finding one close to your school or home will be easy! Playing basketball, coloring in, or eating lunch don't seem like life-changing activities, but being a fun, stable presence for your Little has a huge impact on their lives! There is a four-semester commitment, though, so make sure you don't sign up as a rising senior!
2. You will always have something to do or talk about!
We match Bigs and Littles based on shared interests. When you have a Little, you have a friend who is excited to talk about that new movie you both love or who enjoys playing sports, singing songs, or coloring in as much as you do.
3. You don't have to leave campus to see your Little!
With our Campus-Based Program, your Little will come to you! We provide transportation for your Little to come to your campus to meet with you one-on-one. With this program, your Little gets to experience life on a college campus and you don't have to figure out transportation to their home. There is still a one-year commitment, but it's more flexible if you go home during your summer break.
4. You Learn More About Yourself
College is a time when you're still figuring things out, but the future is quickly approaching. Being a Big can help you learn about who you are, and maybe even help you decide what you want to do with the rest of your life! We've had Bigs who began mentoring in college, discovered a new passion spending time with their Little and landed on a new career path.
5. Bigs Learn Valuable Skills
Being a Big helps you become a well-rounded person. You learn how to be more accountable, a better communicator, more responsible and so much more. When you have a Little who is counting on you, you quickly grow into a person they can rely on.
6. You Get to Take a Break from Studying!
Being a mentor is a valuable use of your time, so you won't feel guilty taking a break from studying to hang out with your Little. The best part? Hanging out with your Little is actually fun!
7. You Don't Have to Worry About Spending Money
It's no secret that college students are known to be frugal, but don't let that keep you from mentoring! You don't have to spend money to be a Big. Hanging out with your Little can be as simple as sitting on the green watching a movie on your laptop, playing Frisbee on a sports field or even grabbing a deck of cards and playing snap!
8. Littles Can Cure Some of Your Homesickness
Missing your family back home? Need a break from college life? A Little can help you establish a home away from home. The relationship between a Big and a Little is similar to a brotherhood or sisterhood, just as our title suggests. Sometimes, you need a break from being a college student, and mentoring can help with that. Even better, spending time with your Little will help them so much more than it helps you.
9. There's a Whole Community of Bigs and Littles For You to Connect With!
When you become a Big with BBBSMB, you join a whole network of Bigs and Littles in the area. It's hard not to meet someone else who has mentored through the program!
10. Making A Potentially Life-Long Friend
Matches have been known to stay in contact for five, ten, even thirty years! You're matched with your Little based on similar interests and are bound to create memories from every outing. Bigs and Littles form real connections and become real friends. What are you waiting for?
Learn more about the many opportunities available for college students to make an impact at Collegebigs.org
Free Fact Sheet
10 Things for Parents to Know
Children s safety is our number one priority; throughout the duration of the match, not just the beginning!
Get the Free Fact Sheet
---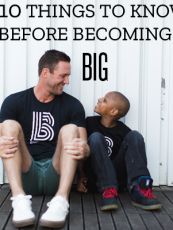 Free Fact Sheet
10 Things to Know Before Becoming a Big
Download this essential fact sheet to help prep for the volunteering process.
Get the Free Fact Sheet