6 Ways To Mentor Through Football This Season
Fall is right around the corner and that means one thing and one thing only…football season is finally back! While football season is awesome for lazy days on the couch watching endless hours of games, it is also a great opportunity to get closer to your Little. There are many different ways to combine mentoring through football, and we list out a few here to get you both excited. Enjoy!
1) Create a Joint Fantasy Football Lineup
Sharing a goal with your Little is a great way to connect, and what better goal to share than wearing the fantasy football crown together? Do your research and draft together, make up a funny team name, and watch the points fly in as you create the ultimate football team.
2) Pretend You ARE Your Favorite Players
Playing catch is always a popular game among matches, but try to spice it up and pretend you actually are your favorite player. Stand tall in the pocket like Tom Brady, spike a touchdown like Gronk, or make some one-handed catches like Odell.
3) Set up a Home Tailgate for Game Day
What is a football Sunday without a little food to celebrate? Get together before the games start and make some warm apple cider, a few of your favorite snacks, and set-up lawn games. You will feel like you are in the parking lot outside the stadium getting ready for the real thing.
4) Become the next A-List Commentating Duo
Once the games are finally on, mute the TV and pretend like YOU are in the box announcing the action. Create some funny catch phrases and be sure to record it so you can look back and laugh at the silliness together.
5) Choreograph signature touchdown celebrations
You have your one moment to shine on the big stage. You catch the game winning touchdown, and what's your next move: Dab? Spike? Whip? All 3? Create a signature celebration together, and don't forget to share what you come up with with us!
We know that sports tickets, especially for the Patriots, can be quite pricey. So, BBBS often is able to raffle off Patriots (along with many other teams/events) tickets to give you and your a Little a chance to experience the action live. There is nothing quite like a fall afternoon at Gillette Stadium, and is a memory you two can share for a very long time. Make sure to check the page frequently so you don't miss out on any fun opportunities!
Free Fact Sheet
10 Things for Parents to Know
Children s safety is our number one priority; throughout the duration of the match, not just the beginning!
Get the Free Fact Sheet
---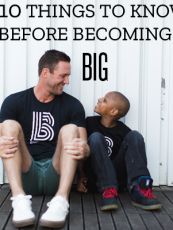 Free Fact Sheet
10 Things to Know Before Becoming a Big
Download this essential fact sheet to help prep for the volunteering process.
Get the Free Fact Sheet