10 Ways Matches Are Spreading Holiday Cheer
The trees are decorated, the lights are hung, and the Holiday Season is fully upon us! This is always a fun time of year for matches as there are a lot of fun activities to do and it's a great time of year to show how thankful you are for your relationship. Today, we showcased just a few of the ways our matches are celebrating together this year. Happy Holidays!
1) "Rheanna and I had a great time at Gardens Aglow last night. Thank you to BBBS for the complimentary tickets!!"- Big Sister Melissa 
2) "Holiday gift idea? There's still time to create a photo book to capture your moments from 2016." – Big Brother Stephen
3) "Cheyenne and I enjoyed some fried ice cream and early Christmas shopping tonight. She told me one of the things she wanted for Christmas was a teddy bear so we picked this guy out a little early… his name is Chuck." – Big Sister Alyssa
4) "The Nutcracker was awesome on Sunday!!" – Big Sister Nicole
5) "Braylon and I went to the Big Brother Holiday Party, and had an absolute blast. Then, we went to the BEST HOT CHOCOLATE place in the entire world….LA Burdicks. Yes, I am turning him into a little chocolate connoisseur." – Big Brother Allen
6) "The perfect MATCH! We enjoyed making these fools shirts together for the Holiday Party! People say "Ya'll look like sisters" and we say, "We are!" Lol." – Big Sister Patrice
7) "A little late on the Christmas bowling party pix🎉🎄🎳
then dessert at the Harbor View and Moana in 3D🌟" – Big Sister Karen
8) "Tough to catch a smile from Tae – but we GOT ONE! Thanks to the many volunteers and organizers for putting on the holiday party yesterday. See you next year!" – Big Brother Andrew
9) "Rayon and I volunteered to sell 50/50 raffle tickets Friday night at the Celtics game to support BBBSMB. We sold $580 worth of tickets!! Lots of fun" – Big Brother Richard
10) "Great time making gingerbread house with my Little!" – Big Sister Katie
Save
Free Fact Sheet
10 Things for Parents to Know
Children s safety is our number one priority; throughout the duration of the match, not just the beginning!
Get the Free Fact Sheet
---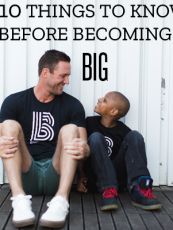 Free Fact Sheet
10 Things to Know Before Becoming a Big
Download this essential fact sheet to help prep for the volunteering process.
Get the Free Fact Sheet