DIVERSITY, EQUITY, AND INCLUSION are core values at Big Brothers Big Sisters of Massachusetts Bay. We believe that we maximize our impact and truly thrive as an organization when perspectives are diverse, our culture is inclusive, and our practices model the equity we want to see in the world.
OUR NEW LOOK. OUR URGENT MESSAGE.
We are the new Big Brothers Big Sisters. We are here to defend every kid's potential. We are ready to build the biggest possible future, together.
---
95% qualify for free or reduced lunch
100% live in single-parent or under-resourced households
400+ live in public housing developments
---
---
said their relationship with their Big helped them make better choices throughout their childhood
said they learned right from wrong from their Big
reported doing better in school because of their Big
"
Damien's broken out of his shyness. He's putting himself out there, helping kids younger than he is, and he's even talking about going to college. 'Mom, I want to go to BC like Stefan.' They talk all the time. 'Mommy, can I call Stefan now?' And I like the connection between them. Stefan even calls me to see how I'm doing.
"
"
I think all young people could benefit from mentors. Young boys, especially young boys of color, go through so many issues in how to identify themselves. Being able to identify with another male who has gone through the murky waters of boyhood helps.
"
"
I would highly recommend the program. My son and I have only great things to say about the program, staff, Big, and the overall experience.  Yes, it's a bit scary in the beginning, meeting a new person, not knowing how if it's going to work and all.
"
---
---
Free Ebook
First 7 Activities As a Big
Download this essential fact sheet for activity ideas that will help you and your Little get to know each other!
Get the Free Ebook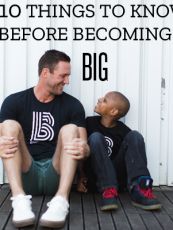 Free Fact Sheet
10 Things to Know Before Becoming a Big
Download this essential fact sheet to help prep for the volunteering process.
Get the Free Fact Sheet