Our Books Are Open
It's your money that keeps us going and enables us to start more kids on the right path. So you have every right to know how it is used. Every local Big Brothers Big Sisters agency is an independent 501(c)(3) nonprofit organization with its own audited financial statement.
---
---
For more information about our statements or other financial matters, please contact Noah Stockman, Chief Financial Officer, at nstockman@bbbsmb.org or (617) 956-0215.
Four-Star Accountability
Charity Navigator, America's largest and most-utilized independent evaluator of charities, has awarded Big Brothers Big Sisters of Eastern Massachusetts its prestigious 4-star rating
Get the details on our rating here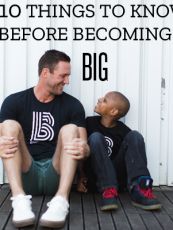 Free Fact Sheet
10 Things to Know Before Becoming a Big
Download this essential fact sheet to help prep for the volunteering process.
Get the Free Fact Sheet
Free Ebook
First 7 Activities As a Big
Download this essential fact sheet for activity ideas that will help you and your Little get to know each other!
Get the Free Ebook