Celebrating Women's History Month
Celebrating Women's History Month!
From our Big and Little Sisters, to staff, to board members, there are countless women within our organization that are worth celebrating during International Women's Month. Big Brothers Big Sisters of Eastern MA wanted to celebrate International Women's Month by highlighting some of our wonderful female board members. Our board members shared some inspiration and favorite quotes by some inspiring women in their life.
"Our responsibility and opportunity as women leaders is to set the tone and create the path for the next step of leaders beside and behind us in our actions and our words. Along the journey, we also need to empower and amplify our allies. Ethnic and gender diversity are not 'nice to haves,' they are imperatives for success in business and life."
-Julia McCarthy
Executive Vice President, Global Head of Client Experience at State Street
"Women's History Month is a wonderful opportunity to commemorate, celebrate, and highlight the contribution women have made towards equality. One of my favorite poets is Maya Angelou.
'You may encounter many defeats, but you must not be defeated. In fact, it may be necessary to encounter the defeats, so you can know who you are, what you can rise from, and how you can still come out of it.' -Maya Angelou
I love this quote because it reminds me that we will all stumble but we can't give up! It is especially important to have someone on your side, which is why Big Brothers Big Sisters of Eastern MA is so important, because its sole mission is to provide mentors to the youth in the community. We need to keep building on this important work."
–Rosemary Sheehan
Chief Human Resources Officer at Mass General Brigham 

"No one on this planet would exist if it wasn't for a woman. No one! Somehow, throughout history, we've been marginalized, mistreated, and often demonized. I feel very fortunate to live in this current era where I have more rights than my grandmothers. I am grateful and humbled by the activists who have fought for my rights; although policies are currently shifting and certain rights are being terminated.
The quote, 'if you have an opportunity to make things better and you don't, then you are wasting time on earth,' by Roberto Clemente speaks to me in regard to mentorship (which requires very little time and economic resources). When you become a mentor, you have the opportunity to make things better for a child (girls very much included), student or professional. By supporting others, we not only impact their life in a positive way, but we create a sense of purpose and fulfillment in our own lives. This quote encourages us to look beyond ourselves and inspires us to use our organic talents and skills to make a positive difference in someone else's life."
-Raquel Rodriguez
Coordinator of Marketing & Events at Lawrence-Lynch Corp
"I went to an all-girls high school in the Caribbean. My high school English teacher, Ms. John not only scared the living daylights out of me because she was a force to be reckoned with, but she also inspired me to become the woman that I am today. She would always say to the girls, 'you must first believe in yourself before others will believe in you, and remember, you can achieve anything you've set your mind to.' Ms. John always pushed us to be better. So, to me, Women's History Month means remembering those who came before me and paved the path to enable me to be where I am today."
-Regina McGregor
Vice President, Corporate Services at Cannistraro
"My own quote is 'Be an inspiration and step into your future self.'
I also appreciate this quote from Michelle Obama:
'No country can ever flourish if it stifles the potential of its women and deprives itself of the contributions of half of its citizens.'"
-Blandine Jean-Paul
Marketing Consultant at Boston Dynamic
This month and every month, Big Brothers Big Sisters of Eastern MA celebrates the powerful and inspiring women who are a part of the organization. Thank you to our Big and Little Sisters, board members, and staff who make an impact on our organization everyday!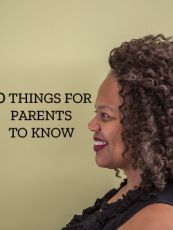 Free Fact Sheet
10 Things for Parents to Know
Children s safety is our number one priority; throughout the duration of the match, not just the beginning!
Get the Free Fact Sheet
---