Hispanic Heritage Month: Favorite Dishes!
In honor of Hispanic Heritage Month, we have asked a few staff here at Big Brothers Big Sisters of Massachusetts Bay to tell us about their favorite Hispanic dishes. Below you'll find a few favorites and what the dish means to them and their Hispanic culture. Enjoy!
Ashley's pick: Pernil is a Puerto Rican holiday staple. It's only made for Thanksgiving and Christmas because it takes hours of prep and baking to get perfect. Everyone makes it differently but it's always delicious. It reminds me of the fun of sitting around the family with my table, hablando de chisme, exchanging gifts with the kids, laughing together and that warm fuzzy feeling of being with your loved ones. It is an honor to be the one to cook pernil for the holiday, trusted with the family recipe and the highlight of dinner! In recent years, I've been passed down the torch. To make such a nostalgic dish with your family's recipe, honoring your culture and filling everyone's bellies and hearts is something I'll always be proud of. It is a tradition we'll have for years to come.

Jenny's pick: Sancocho is a beef stew and definitely considered the ultimate comfort food in DR. It brings large families together during the holidays and other special occasions.  It's usually made in a huge pot, and EVERYTHING is thrown in there. You'll find corn on the cob, plantain, chicken, beef yucca, squash, vegetables and honestly anything your heart desires. It's perfect for those cold nights and I usually like to add avocado (adding avocado to every meal is very Dominican), white rice, hot sauce, and a lime to it. It's not only for the cold weather though, it's a popular dish to have in DR, even when it's warm weather year round. I'm craving it now.
Itzel's pick: One of my favorite Mexican dishes—that bring back all kinds of childhood memories—are Tamales! While there are many types of tamales that can be made, my favorite are my mother's version; a dough made from corn, seasoned with a red chili sauce, filled with shredded beef or pork, smothered in a red chili sauce, sliced potato, jalapenos and olives. My mom would cook these on many occasions, including Thanksgiving and Christmas. It was rare to find a turkey or ham on our dinner table! I remember my mom would make huge batches of them and we would eat them for breakfast, lunch and dinner, for a few days after Christmas. To this day, coming home means hanging out as a family and talking while making tamales…And devouring more tamales than we should!
Nathalie's pick: Ajiaco is a typical soup from Colombia that I grew up eating at home. It reminds me of my family back in Colombia because whenever I visit them in Bogota, they ask me what I want the welcome lunch meal to be. I always ask for ajiaco because it's my favorite and something that I can't always have when I'm away from my family. It brings everyone together at the dinner table and is my favorite meal. It's made with corn on the cob, chicken, a type of crema (heavy cream), cilantro, papa criolla (small Colombian potatoes), and garlic. It's usually paired with avocado and white rice that you take a spoonful of and mix into the soup. I can smell it already.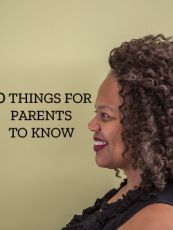 Free Fact Sheet
10 Things for Parents to Know
Children s safety is our number one priority; throughout the duration of the match, not just the beginning!
Get the Free Fact Sheet
---