Start Changing a Life. It'll Change Yours Too!
Big Brothers Big Sisters of Massachusetts Bay is thrilled to continue our popular "Add a Little" campaign. With so many kids waiting for a mentor in Greater Boston, we're asking men and women alike to consider adding a Little to their lives. And we're letting them know that with just a one-year commitment to hang out for several hours twice a month, a Big can make a huge impact on his Little's life.
---
Everyone wants to do something meaningful with their life. Add a little purpose to a child's routine.
It can be playing catch at the park. Grabbing a bite from a food truck. The simple stuff kids want to do. More than that, Bigs get a chance to share a little bit of their lives and skills with a kid who's eager for new experiences. It doesn't have to be complicated. Simply being there means everything. With just a one-year commitment, a Big can make a huge impact on the life of a Little Brother or Little Sister.
Catch a new flick together

Grab a bite to eat

Play a fun board game

Have a catch in the park

Just hang out and joke around
Meet The Stars of Our #AddALittle Campaign Video
Jeremy & Jeury
As an entrepreneur looking to become involved in a meaningful volunteer experience, Big Brother Jeremy heard about BBBSMB through a friend. Despite some initial reservations, Jeremy has now been matched with his Little Brother Jeury for over a year and says that just hanging out is often the best part of their time together. Read more about these two in their exclusive interview about being a Big.
Nigel & Stevon
Nigel, who remembers how important role models were to him as a kid, hoped to make an impact of his own by becoming a Big Brother. After a year-long match with Little Brother Stevon, both their lives have been changed for the better. Whether it's a trip to the Aquarium or a game of catch in the park, Nigel and Stevon always look forward to their outings together. Read more about their story, and their involvement in the Add a Little campaign here. Read more about these two in their exclusive interview about being a Big.
Navin & Christian
Big Brother Navin knew he wanted to get involved with the community, but didn't know how much time he would be able to offer given his hectic work schedule. However, after being matched with Little Brother Cristian, he quickly realized that hanging out with his Little was an awesome way to spend a few hours and gave him the chance to "be a kid again." Check out their exclusive interview to learn more about why being a Big is so awesome.
Mike & Kenny
Big Brother Mike and Little Brother Kenny are more like friends than anything else. They have gotten into a comfortable groove and say that spending time together is like hanging out with an old pal. Mike has a feeling they're going to be buddies for a long time and looks forward to seeing where the friendship goes over the next couple of years. Learn more about their personal experiences as Big and Little.
Dave & Tyler
Having recently moved to the Massachusetts Bay Area and recognizing the growing need for Big Brothers (roughly 800), Dave was compelled to get involved. Though he and his Little Brother Tyler have only been a match for about 6 months, they have both felt the impact of the new friendship in their lives. Dave and Tyler were excited to be involved with the Add a Little Campaign and to share their story with us.
Jake & Brandol
After seeing the impact BBBSMB can make, Jake decided it was his turn to become a Big Brother and he has never looked back. They always talk about different ideas for fun activities they'd like to do together and hardly ever get bored. Now, after a match of almost a year and a half, Jake has seen significant changes in Little Brother Brandol's life as well as his own. Read their exclusive interview to learn more about their experiences.
We want to make your decision to volunteer an easy one.
Have a question?
Our team is standing by and available to answer any questions you may have before applying.
Ask A Question
Want to talk?
Schedule a 10 or 30 minute phone consultation with us to discuss the potential of adding a Little.
Schedule Call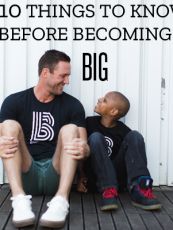 Free Fact Sheet
10 Things to Know Before Becoming a Big
Download this essential fact sheet to help prep for the volunteering process.
Get the Free Fact Sheet