Your Vote Matters in a BIG Way
Your Vote Matters in a BIG Way
Educating Our Youth About the Values of Civic Engagement
We are exactly one week away from arguably the most important presidential election in the history of the United States. With issues of healthcare, education, equity, race and COVID-19 response at the forefront of debates, it is critical for our community of staff members, Bigs and Little's families to get out and vote. We need to talk to our children about democracy and show them by example that casting our ballots matters in a BIG way.
Our friends at Teak Media + Communication recently sat down with Big Brothers Big Sisters of Eastern Massachusetts' own Jazzmyn Rodrigues to learn more about the agency's efforts to educate and empower our community to vote. Rodrigues, a coordinator for our Mentor 2.0 technology-enriched program, volunteers for Black Ballot Power, a non-partisan, national campaign, to increase Black voter turnout focusing on critical areas of the country.
Teak: Why is voting crucial to the work of BBBSEM?
Jazzmyn Rodrigues: Voting is crucial because the outcomes of the election directly impact the communities we serve. We must advocate for youth education, family rights, equitable opportunities, and resources through our ballots, choosing the policies, representatives and change that will positively affect us all. The work we do is grounded in the well-being and empowerment of young people from all backgrounds and walks of life. Our mission is to ignite the potential, power, and promise of all youth. Participating in our local, state, and federal government propels our work to fulfill our mission and defend the potential of youth in our communities.
Teak: What is the agency doing to encourage staff members to vote?
JR:  As an agency we are committed to empowering those around us to participate in the election. Part of this work includes educating our staff members about issues related to our work and being flexible for our staff to go out and cast their ballots. We have had virtual "lunch and learns" that serve as opportunities for the team to come together and discuss specific topics, such as virtual learning, diversity and inclusion, and an equitable recovery during the pandemic. We have also brainstormed different ways in which to empower our Big-Little community to participate in the election.  And, on Nov. 3, staff members will be given 2 hours to cast their ballot and a full day off if they are planning to work the polls.
Teak: How is BBBSEM encouraging Bigs to leverage their voices this election season?
JR: We have been sharing resources and tips for participating in the election through each of our external communication channels, including our newsletters and social media channels, as well as speaking directly with Bigs during match support calls. We are also encouraging conversation between our matches, staff, and families to help educate and empower one another to get out and vote in November. All messaging and actions are nonpartisan.
Teak: How is the agency facilitating conversation between Bigs and their Littles?
JR: Match Advocates have a weekly newsletter that goes out to all of our matches with information and activities to try. During this weird period of quarantine and physical distancing, a lot of our matches have used these recommended activities to spark conversations around an array of topics, including the election and the importance of civic engagement. Matches love them! Many of our Bigs report their Littles asking questions about who our representatives are, the election process and what it means to vote.
Teak: How will BBBSEM celebrate everyone's participation in the election?
JR: Currently, we are working with matches to create a celebratory video that will be shared with our Greater BBBSEM community. The content will not only celebrate our community of matches, families, and staff for voting, but it will also engage our youth around the value of civic engagement and the importance of getting involved!
Teak: Any final words?
JR: There are so many ways to get out and cast your ballot this year, whether it be by mail, early voting or in-person. Get out and vote!
To learn more about election information and where you can cast your vote, click HERE.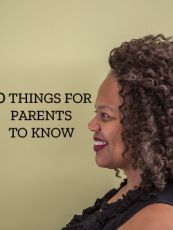 Free Fact Sheet
10 Things for Parents to Know
Children s safety is our number one priority; throughout the duration of the match, not just the beginning!
Get the Free Fact Sheet
---