10 Reasons You Should Add A Little For Your New Years Resolution
The beginning of a new year is a great time for self-assessments, reflecting on all that you've accomplished in the previous year, and setting goals for what you hope to accomplish by this same time next year. In this post we highlighted 10 reasons why one of your goals for this year should be adding a Little.  Enjoy!
1) Significantly impact someone else's life.
Mentoring tells a young person that there is someone in their corner. It lets them know they matter. Set a couple of hours aside each month to do your part in shaping the next generation of leaders.
2) Doing something positive in the community.
By uplifting one child you're taking a big step towards empowering the community at large. Spark the change you want to see in your community and inspire others to do the same!
3) Being a Big is LOTS of fun.
When you Add a Little, there will be no shortage of fun and laughter. Our Little Brother's are funny, unique, and all-around great kids that just need some guidance. Plus, we match based off of interests, so you will be sure to like the same things and have a BLAST doing them.
4) Adding a Little is good for your health.
Did you know that volunteering can lead to better physical, mental, and emotional health? Becoming a Big is no exception, as you will clearly feel better about yourself in all those aspect throughout your match.
5) Create a new friendship.
The most important thing about being a Big is creating a new friendship with your Little. It's that simple!
6) Feel what it's like to be a kid again.
You can't help but stay in tune with your inner-child while spending time with your Little. Not only do you get a chance to keep up on all the latest kids movies and video games, but you also get to revisit the world from a child's perspective.
7) Connect with a massive network of other Bigs.
Becoming a Big is like joining an unofficial social club. You'll start noticing other matches on outings and it won't take long for you to see how widespread our reach is. Simply mentioning your status as a Big to family, friends, and colleagues will bring up countless connections to our agency in every capacity; as alumni Bigs, alumni Littles, friends of current Bigs and alumni Littles, etc.
8) YOU are impacted as much as your Little is.
As much as our Little's are impacted through the relationship, our Bigs are just as much if not more. Our Big's boost their self-esteem from making a difference in their community. Also, you can learn a lot about yourself and gain valuable personal and professional skills to help you outside of your match.
9) Get a chance to explore.
A major part of every match is trying new experiences. By Adding a Little, you now have a buddy to explore your local community with and try new things. Make a point to have every slice of pizza in your town, or visit that museum you've never gotten around to.
10) There's no better time than now!
A lot happened in 2016. Like, a LOT… and there's no better time than now to allocate some of your time to helping the youth thrive! We don't expect our volunteers to be experts on politics and race relations, but we do expect them to lead by example and that's all it takes to make a serious difference. Make your mark on the future today!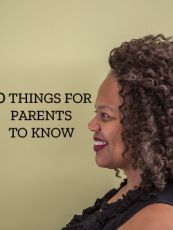 Free Fact Sheet
10 Things for Parents to Know
Children s safety is our number one priority; throughout the duration of the match, not just the beginning!
Get the Free Fact Sheet
---