4 Work Life Balance Tips from 4 Successful Boston Leaders
Four Big Brothers and leaders in the Boston community come together to give some Work Life Balance Tips for other guys trying to prioritize giving back and their professional careers.

 Dalen Cuff, Anchor/Reporter, Comcast Sports New England, Big Brother since 2014, @DalenCuff

"It's not easy to balance work with my personal life in general.  Sports take place on nights and weekends, so in this industry you have a schedule opposite the vast majority of people.  In addition to that, the job can require a good amount of travel.  So time management is always a concern, but the key is prioritizing what's important and planning out time in advance to dedicate to that.  Being a Big is high on my priority list so each week when I look at my schedule, I try to identify the time I have available and see if that can fit with my Little's schedule.  It's all about planning ahead to ensure my Little and I have time to dedicate to our relationship and having fun." 

 
Robert Charbonnier, Vice President of Finance, State Street, Big Brothers since 2013

"I prioritize my time with my Little, Daniel and do my best to not allow my work schedule to interfere with our scheduled time.  My calendar is blocked off for two hours every Wednesday and I schedule my work around that."

 
 Scott Noonan, Chief Operating Officer, Wicked Good Cupcakes, Big Brother since 2014, @scottjnoonan

"For me, work life balance doesn't have to be an issue. I love my job so I don't see it as work really. I also have the luxury of working with my family and we all love what we do, so we don't feel like our work takes time away from us being together. I know that may sound strange, but our work is also one of our hobbies, so for us it works. I don't find being a Big a sacrifice on my time at all. I get a tremendous amount of personal satisfaction spending time with my Little. Ultimately I think it's important to make time for others whenever you can, and being a Big gives me that opportunity."

 
 Jeremy Barron, Co-Founder and Vice President of Customer, 3PlayMedia, Big Brother since 2013

"Balancing work, life, community responsibilities is always a challenge. I try and treat all my commitments as equally important, and thus, try not to sacrifice any one type of responsibility for another. That is obviously easier said than done. I also tend to think of giving back to the community, particularly when spending time with my Little Brother, as a component of my personal life. Anyone can fit a few hours of service or play one day every two or three weeks into their schedule. They just need to commit to doing so."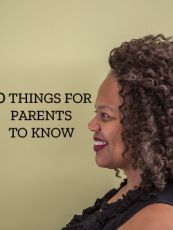 Free Fact Sheet
10 Things for Parents to Know
Children s safety is our number one priority; throughout the duration of the match, not just the beginning!
Get the Free Fact Sheet
---