Mentoring Real Life Stories: Interview with Big Sister Becky
Becky McVey, a teacher in Allston at the Horace Mann School for the Deaf and Hard of Hearing– always knew she wanted to give back. After learning that her new Little Sister would be a former student and close neighbor, Jenasia – she was thrilled to already have a deap connection with someone she cared about. Fluent in American Sign Language, read Becky's story and how their relationship is like any other match, overcoming the odds and finding a true meaningful friendship.
Tell us about you and your Little.
My name is Becky McVey and my little is Jenasia aka JB. I have lived in Woburn for
5 years – I'm 31, married and have a one-year-old daughter. I am a teacher of the Deaf in Allston at Horace Mann School for the Deaf and Hard of Hearing – it's a Boston Public School and the oldest public day school for the Deaf in the U.S. This year I teach 5th and 6th graders but I've taught a little of everything at HMS!
How long have you and Jenasia been matched?
Jenasia was in my class 5 years ago and I enjoyed working with her, so I volunteered to tutor her in reading during the summer. The following fall (2010) I was in the process of being re-matched after my previous Little had to leave the program and I was thrilled to find I had been matched with JB. For our first outing we carved pumpkins at my house, so we can always remember that it was October!
Why did you decide to volunteer to be a Big Sister?
I got involved through my school. One of our school counselors was recruiting people to sign up to become Bigs. A lot of our students come from out of town so when they heard I was living in Woburn the match advocate paired me with JB who was living in Medford (she now lives in another North Shore town). This was great for me as I didn't want to drive into the city to pick up my Little every time as I had done with my previous match. It's great to take advantage of our proximity to the city when we WANT TO but not necessarily HAVE to. We have gone into the city for Celtics and Sox games but often just hang out at the Square One Mall!
Describe your relationship with Jenasia.
She is amazing. She is strong and funny and open-minded. She is curious and isn't afraid to ask me anything, but she lets me ask her anything too, so it's only fair! She is always willing to try new things but is also fine just hanging out. She makes me laugh and even thinks I'm funny! Our sides always hurt from laughing by the time I drop her off at home.
How has Jenasia being deaf impacted your relationship?
Well, I'm fluent in American Sign Language so it hasn't really impacted our relationship in anyway. The only way it really impacts our relationship is that I have to fill in as an interpreter at times, but it isn't a problem! I think Jenasia enjoys that when she's with me she can be herself and communicate via ASL and turn off her cochlear implant!  She can talk but it is a lot of work for her, so when we're together she can relax a bit.
What do you typically do together?
JB is a super "chill" Little. Like I said before, when in doubt she wants to go to the mall and walk around. She loves to try food from different cultures – in the last 3 months we have had Brazilian, Chinese and Nepalese/Indian cuisine! She helps me try new things because she isn't afraid of anything. For example, she "dragged" me to the USS Salem when it was a Haunted Ship three years ago. I was seriously scared but she walked through with her head held high the entire time. We have laughed about it for years. This year we got tickets through BBBSMB to go to Witches Woods, which was a little more my style. We have gone roller skating, tubing, to Dave and Busters and to many more things that I wouldn't have done on my "own." She got to go mini-golfing for the first time recently but the best part was waiting for the group in front of us to move on as we were just chatting and joking around, having a blast! Between Groupon and BBBSMB Match Support there is always something to do!
How has your Little influenced your life and how have you learned from her?
She is the most curious and open person I have ever met, hands down. She has overcome a lot already in her life but she is quick with a smile and is always willing to laugh. She has taught me a lot about being open and willing to make mistakes. She always rolls with the punches – if we need to change our plans or if something doesn't work out, she doesn't get upset.
How have you seen Jenasia grow throughout your big/little relationship?
I have seen Jenasia persevere in many aspects of her life. She has struggled academically but she wants to graduate and is still working towards that goal. She has had challenges communicating with her family, but she has found ways to remain close to them. She has grown in her confidence in her identity. I think 99% of this growth is due to Jenasia but I'd like to think that the conversations we've had over the years have helped fortify her so she could continue tackling the issues she has dealt with.
What are looking forward to most as your relationship with your little sister continues?
I have enjoyed watching Jenasia gain independence and some maturity over the last 5 years :). Our outings involve a lot less activity and a lot more conversation as she gets older. I am happy to be a constant person in her life during those tumultuous teenage years! I look forward to her high school graduation in another 5 years and to seeing her continue to pursue her dreams!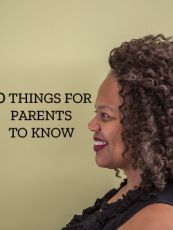 Free Fact Sheet
10 Things for Parents to Know
Children s safety is our number one priority; throughout the duration of the match, not just the beginning!
Get the Free Fact Sheet
---