How Did Black History Month Come About?
February is Black History Month, a time where we reflect on and celebrate the history, culture, achievements, and contributions that African Americans and other people of African descent have made to our country. Big Brothers Big Sisters of Eastern Massachusetts is proud to be part of the thousands of stories of mentorship, change, and impact from our Black Bigs, Littles, Parents, and BBBS staff. To start off the month, we are sharing some history on how Black History Month came to be.
Did you know that this commemoration first started as just a week?
In 1915, African American historian, Carter G. Woodson saw that there wasn't much public information about the achievements and contributions made by African Americans in the United States. People simply did not know much about African American culture or history. Woodson decided to help fix this problem. He and a group of other African American historians created the Association for the Study of Negro Life and History. Together, they researched the achievements and history of African Americans in the United States. Today, this group is known as the Association for the Study of African American Life and History (ASALH).
Let's fast forward to 1926! After doing much research on African American history, the ASALH decided it was time to share and honor what they've learned with others. And so, they did this with Negro History Week. During the 2nd week of February, various communities did local celebrations with live performances, lectures and talks with historians. The ASALH chose the 2nd week of February because it included the birthdays of African American abolitionist, Frederick Douglass and the former U.S. President, Abraham Lincoln.  Because of the ongoing struggle of racial equality in the United States, not everyone was happy about celebrating African Americans; and so the first Negro History Week was initially not celebrated across the entire United States.
Over time, different cities throughout the United States eventually began recognizing Negro History Week. It wasn't until the 1960s in the heart of the Civil Rights Movement, however, that people really began acknowledging Negro History Week as its founders hoped all would. With the support of college students, local black organizations and communities, eventually people began celebrating Black History during the entire month of February.
In 1976, former U.S. President Gerald Ford officially recognized February as Black History Month in the United States. Today, Black History Month is celebrated in many different ways. People all over the country continue to have celebrations such as local festivals, live performances, and other ways that simply recognize and honor African Americans, those of African descent,  and their contributions to American history and culture, and to the world at large.
Black History Month gives our organization the opportunity to recognize the importance of diversity, equity, and
inclusion within our agency and communities at large. Throughout history, many Black Americans have made countless sacrifices to be able to share their history with future generations. Each year the  Association for the Study of African American Life and History (ASALH) chooses a theme highlighting significant matters of the times. This year's Black History theme is The Black Family: Representation, Identity, and Diversity. Our agency strives to be a support for all families, and encourage youth to create a future that is diverse, equal, and inclusive.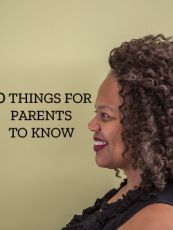 Free Fact Sheet
10 Things for Parents to Know
Children s safety is our number one priority; throughout the duration of the match, not just the beginning!
Get the Free Fact Sheet
---