Mentoring Real Life Story: Reunited and it Feels So Good
The Big-Little friendship is similar to any other friendship you may have. Life can bring you to many different places, and sometimes that distance can cause you to lose contact with that person you were so close with.
For Big Brother Bradley, work brought him around the globe and caused him to lose contact with his Little, Reginald. However, thanks to a 2013 BBBS national campaign to reunite matches and a few years of phone tag, Bradley and Reginald were finally able to reunite 14 years later! Read on to learn about their match together, how he became reconnected, and what it felt like to see his Little grown up into a successful young man.
Why did you decide to become a mentor?
Initially, it was most likely because of the influence of my uncle. My parents divorced when I was 5 years old, and he would spend time with me and I thought he was the coolest guy in the world. A lot of what he said and did impacted decisions I made later in life.  Later, in college, I volunteered watching kids while the parent/guardian attended night classes for the GED. I didn't feel like I made a big impact on the group and thought I'd do better to interact in a one-to-one setting.  Three to four years later, I got involved with a weekly reading program and was paired up with a 2nd grader, but our match terminated at the end of the school year.  I thought I could make a bigger impact if the match was year-round and would last longer than 9 months so I became a Big.
What were your initial feelings with your match?
I was initially nervousness about what activities I would come up with and whether we would have anything in common.
What were some of your favorite things to do together?
Reginald was very active, even as a 7 year old. My fondest memories were playing a game by the Bunker Hill Monument that he and I invented which involved a tennis ball, a basic knowledge of football and a lot of imagination. We dabbled in gardening in my backyard which was fun, we attended at least one Red Sox game because of a generous donor, and hiked the Blue Hills.
What is your favorite memory together?
Back in '02-'03, cellphones weren't readily available so often times I would take the T to Roxbury to get him and as we rode back into the city, we'd brainstorm as to what to do next. One day, we took the T from Roxbury Crossing to Back Bay and walked through the lobby of a hotel to buy a newspaper in the gift shop to see what movies were playing.
Reggie asked, "What is this building?"
Me: "It's a hotel."
R: What do people do here?
M: They sleep here.
R: Why don't they stay with their Auntie?
M: Well, they are visiting a town where they might not know anybody.
R: Why would they do that?
That exchange fundamentally changed how I viewed my job as a mentor. It wasn't going to be about grandiose experiences or mind-bending outings, but more along the lines of letting Reggie hang out with me (and sometimes my wife) and just do usual things that might not be so usual to him.  He said recently that he still remembers making pizza dough from yeast and grilling the pizza on the grill in my backyard.
If you could describe your Little with just one word, what would it be?
Indefatigable.
What do you think your Little learned from you?
I hope I reinforced the message that education is very important and that it doesn't take money to have fun.
What did you learn from your Little?
I learned that it doesn't take much to really make a difference in somebody's life… consistently showing up, being dependable and devoting my attention can have a huge impact in the self-confidence of a child which then allows them to go out and take chances and uncover their own incredible skills.  It wasn't my job to teach him anything in particular but to just be there for him and let him see another part of town.
Describe what these past 14 years have been like away from Reginald and how you came to reunite?
My wife and I relocated from Boston to Sydney (Australia) for two years and I immediately lost contact with Reginald.  Kimberly and I then moved to Houston, TX in '06 where we've lived for 11+ years.  We now have a 6 yr old son (only a year younger than Reginald was when I met him) and a 3 yr old daughter.  Because of my positive experience with Reginald, I became a Big Brother in 2007 to a 10 yr old (Timothy) and we were matched until he turned 18 and graduated high school.  Reginald and Timothy probably didn't have much in common in hobbies, but I had similar interests with each of them so BBBS must've been doing something right with its questionnaire and matching process.  I have since recruited 7-8 of my friends to be Bigs, and from time to time, I speak at United Way events on behalf of BBBS.  I have mentioned the hotel story dozens of times, but it always gnawed at me that I lost contact with him.
In 2013, BBBS had a national campaign to reunite Bigs and Littles, and I was able to locate Reginald on FaceBook…he was easily recognizable but was now going by "Reggie" so I sent him a note in Messenger. For three years, I didn't hear anything, but he responded in January 2017 and we quickly hit it off again, especially with the Patriots coming to Houston for the Super Bowl.  He mentioned that he hoped our paths would cross again someday and, like, 3 days later, my work asked me to travel to Boston for 2-3 days.  I immediately reached out to him to arrange a reunion…but I didn't hear back for 4-5 weeks and my trip was coming up quickly so I sent a Message to his girlfriend who explained that he never is on Social Media but she'd pass along the note.  Turns out he goes to school full-time and is a semester away from his degree in Sociology from U Mass-Boston, and he works straight through the weekend from Friday afternoon to Monday morning at a home for adults with special needs.  He doesn't get to see his girlfriend or son until he gets back from class on Monday afternoon… indefatigable, indeed!  So, we planned a reunion on Thursday which is the day of the week he gets to spend with his one-year old son while his girlfriend is attending her full-time classes (Tues/Thurs).  The two of them have so much going on but are so happy and cheerful… the reunion went as well as it could've possibly gone, and Reggie, Laura and Trey got to meet Kimberly, Alexander, Victoria Rose and me… and now I have his email and cell so no more FB Messages!
To complete the circle, my wife and I are in the process of becoming a Big Family to an 8 yr old boy…named Reginald.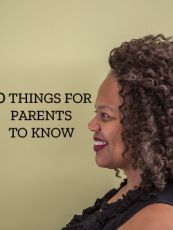 Free Fact Sheet
10 Things for Parents to Know
Children s safety is our number one priority; throughout the duration of the match, not just the beginning!
Get the Free Fact Sheet
---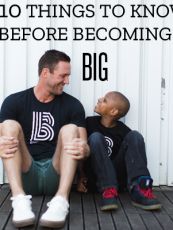 Free Fact Sheet
10 Things to Know Before Becoming a Big
Download this essential fact sheet to help prep for the volunteering process.
Get the Free Fact Sheet