5 Staff Bigs Share their Stories This National Volunteer Week
National Volunteer Week is an annual celebration of the contributions that volunteers have made to their local communities. At BBBSMB we witness the significant impact our volunteers have on the lives of children all across Massachusetts Bay and the Cape on a daily basis.
In honor of National Volunteer Week, we wanted to highlight a few of our staff members who go above and beyond their call of duty and have volunteered to become Big Brothers/Sisters themselves. Read on and prepare to feel inspired to volunteer yourself!
What inspired you to become a Big?
Daniel Vatnick, Enrollment Coordinator — "I was inspired to volunteer to become a Big because making a kid smile is probably the coolest thing in the world, and so to be able to make a kid smile over and over again is a pretty amazing thing."
Alexandra Hodgman, Digital Marketing & Communications Manager — "I decided to be a Big Sister because I started to feel like a lot of my free time was wasted. Similar to how I feel about traveling, experiences and memories are so valuable to me, and giving that back to someone who couldn't necessarily do the same things I did as a kid seemed bigger and more important than myself."
Fabieny De Pina, Match Support Coordinator — "I wanted to be for someone else the person that I needed and had when I was younger."
Estelle Brooks, Community Relations Specialist — "What inspired me to become a Big Sister is to make a difference in a child's life and build a friendship. I want to leave a positive impact in a child's life and I also enjoy volunteering and giving back. I've always liked working and being around kids. It also feels good to be a part of something great like volunteering."
Jay Cronin, Collegiate and Community Partnerships Coordinator — "I always wanted to be a Big Brother. I don't know exactly how I first found the organization, but while I was at university I knew I wanted to do it, but I also knew I needed a one-year commitment. It wasn't until my sophomore year that I realized I'd be staying in Boston for the summer and not heading back to the UK. Shortly after realizing I'd made the decision to stay for the summer, I applied and became a Big through the program."
What's your favorite memory you've shared with your Little?
Daniel Vatnick: — "The two of us playing HORSE 1:1 in his school gym and him absolutely schooling me. Got beat HORSE to no letters."
Alexandra Hogman — "Anisah and I have been matched now for almost two years and she's getting to this really fun stage where she's becoming a teenager and I don't necessarily have to treat her like a kid. She now sits in the front seat of the car with me—which was a big deal—and she's asking me more questions about "growing up" and how I dealt with things in middle school. We have discussions now about adult things too which is so crazy! We talked about the election, what to do if a boy doesn't like you, and even issues she's having with her family. Now more than ever, we have the best time just going to Chipotle, getting our nails done and just chatting."
Fabieny De Pina — "I think my favorite memory of our match was our last outing together. When I first met my little she had a tough face on and definitely let me know early on that she was not a person to show her emotions. However, at the end of our first outing she unexpectedly had tears in her eyes and could not stop them. To me it was an accomplishment, I managed to get this tough cookie to let me in."
Jay Cronin — "I did a program called World Teach, similar to the Peace Corps but it's a one year commitment to teach. Right before I left, I gave him this box. It was full of letters and stamps and stickers. It was really cool when I got my first letter from him. I got him this big book of stickers. I thought that would last him forever, but the first letter I received from him was just covered in stickers, even the envelope. You could barely read the address. There were stickers everywhere. I have absolutely no idea how it got through the post, but receiving that letter from him after not seeing him for a couple of months was a pretty good moment."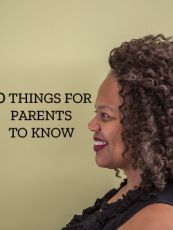 Free Fact Sheet
10 Things for Parents to Know
Children s safety is our number one priority; throughout the duration of the match, not just the beginning!
Get the Free Fact Sheet
---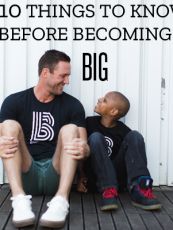 Free Fact Sheet
10 Things to Know Before Becoming a Big
Download this essential fact sheet to help prep for the volunteering process.
Get the Free Fact Sheet
Free Ebook
First 7 Activities As a Big
Download this essential fact sheet for activity ideas that will help you and your Little get to know each other!
Get the Free Ebook