Moms Can Be Mentors Too! Mentoring Real Life Stories on Martha's Vineyard
All you need is a giving heart to make a big impact on a child's life. Kris, a mother of two grown sons, jumped at the opportunity to mentor a young girl, Charlotte, from her Martha's Vineyard community. With a special trip to New York under their belt and a cookbook in the making, Kris shares her experiences as a Big Sister and how Charlotte has had an equally impactful presence in her life, even as a mother of two boys. Read more about their unique match!
Let's start from the beginning. When and how did you first get involved with Big Brothers Big Sisters?
Well, Charlotte and I celebrated our one year match anniversary on December 20thand it probably took 6 months for us to be matched, so I believe it was the spring of last year. My mother had recently passed away and I was very involved in her care, I raised two sons, and I sort of felt like after she passed that I wanted to do something to volunteer, but I wasn't quite sure what. I knew I had a giving heart and I like nurturing—anything in that area—so initially I thought that I'd volunteer for the elderly and it's really funny to me, because I had never really thought much about becoming a Big Sister, but I woke up one morning and thought to myself, "You know what? I think I want to become a Big Sister".
I got all the information and I was so excited to start the journey for many reasons. One was to just be able to have a place where I could give back, something that I thought would really be a fulfilling experience, but also to have the opportunity to work with a girl. I had wonderful relationships with my mother and grandmother growing up; they taught me so many wonderful things, being mentored in many ways.
My sons always ask me not to tell anyone that I gave them sewing boxes, but I taught them everything I knew that I could get away with. They actually had baby dolls when they were younger, but I wanted them to understand that whole process of nurturing and caring and that they aren't just a boy or a girl, but that they're human beings and you can learn a lot of things.
Describe the first time you met your Little Sister?
I went to bed the night before and I was so nervous; you would've thought I was meeting God for the first time. I was wondering if she was going to like me, what she would be like, what she looked like, and I just had all these questions, but my boyfriend reassured me that I would do great. I went to meet her the next day over at Vineyard Haven with Caitlyn and my heart was pounding, because I had read about her and was finally going to meet her in person. She walked in the room and it was seriously love at first sight. I have a picture that Caitlyn took of us and you can just see my smile going around my head.
This is the thing that's crazy and would only happen on the Vineyard. Charlotte had been at her best friend's birthday party and she was in Christmas pajamas and sparkly high top sneakers. Later I found out that she was actually sleeping in my backyard last night at her best friend's house who lives directly behind us. She was there dancing to a disco ball celebrating turning eight with her friends and I'm a backyard away from her in bed thinking, "Oh my God, I wonder what she's going to be like. I can't wait to meet her!"
I met Charlotte and her Dad and I was very touched by both of them. She was a little tired from her sleepover, but she was definitely excited to be there. They had told me that she had waited—both of her older siblings have Bigs and she wanted one of her own—and I was talking to them about how I was in this for the long haul and her dad was saying that he really hopes that this is a lasting relationship, and we laugh about it to this day because I told him "I'm not going anywhere unless she throws me out" and she said "No way!". I feel like I've extended my family and my sons have met her. It was almost like welcoming a new family member. Everyone was so supportive and interested, wanting to meet her, and grateful to know about this program. I try to talk to everybody I can to inform them and get them involved, because it really is amazing.
Sidenote: I don't know if you have children, but if you have children or have been pregnant, once you are you notice every pregnant woman on the planet and now I've met so many people who have been Littles themselves or have been Bigs and it's amazing. It's like a whole other world that I'm becoming aware of which is just delightful.
How would you describe your relationship with Charlotte?
Oh, gosh. It's really special. Whenever we see each other we just light up like lightbulbs. Whether we're doing the simplest thing or we've planned something, it doesn't matter. We're like two magnets. We're just happy to get together and see what happens.
Has being a Big Sister taught you anything? About yourself? About others?
Yeah, definitely. I've told you about my personality being a nurturer, but I'm also a nurse and mother. You know, it's interesting. Charlotte is biracial and I've always been involved in humanitarian causes, but it's given me a whole sense of community to just embrace all cultures and all people. I've always felt that way, but I have a deeper compassion and passion for just wanting to belong and know that we're all one and that's something I try to teach Charlotte. We made these care packages to handout to the homeless and we talked a lot about the people you meet on the streets and how everybody was somebody once and was a baby somewhere and that it's important that we remember and love all people. So we made these little packages and handed them out and I think it made her have an awareness outside of herself too and that you can always give something to somebody and help them feel better about who they are. It's also helped me to really awaken that girl to girl thing. I'm so excited because there are so many things that we're planning to do, like putting together a recipe book and making a quilt from pieces of clothing from her family and make a quilt that tells a story, so I'm able to do more things that my boys wouldn't allow me to.
See: 12 Volunteer Opportunities for You & Your Little
Do you have a favorite experience or memory with Charlotte?
We have so many. We started packing picnics and going on hikes, but it was off-season and we had this one-on-one time, just she and I on the nature trail, to talk and pretend. We ran through the woods like horses and just play in an imaginary place. She talks to me a lot and I think she knows that she can let her hair down and I'm really going to listen to her. I think that's really special because we aren't around people and we don't have distractions. It's truly one-on-one and we're in nature, which was really nice. We talk about what we see, the different animals, the birds, the flowers, and the butterflies. She's so in tune with all of that and it's just beautiful.
Why is mentoring so important on the Cape and Martha's Vineyard where there are traditionally tight knit communities?
Well, the world is a big place and I think the more exposure that you can have to many things it just raises your awareness. The Cape and Islands are wonderful, but there's a lot out there and we all come from so many places on this planet. We never know our own selves where we'll end up in life, so I think the more you share and mentor, preparing people for new experiences the more developed they can become and the more enriched their lives can be.

What other activities do you and Charlotte enjoy doing the most?
Cooking has become something we really enjoy doing and that's how our recipe book sort of came to be. It's usually around a mealtime, whether we're packing a picnic or cooking, and I try to tie a lesson into everything that we do, so cooking might involve some science, math, or nutrition, so that she's gaining awareness about making good choices with food. We've perfected this bean and rice dish that we've truly created and when we get together she always asks if we can make it again. We've put a lot of really cool stuff in it and I think it's really a unique recipe that we've created. We also do a lot of sewing and we actually made felt nutritional things. We talked about nutrition and made a felt banana and fruit bowl. We even made a felt stuffed donut, because you got to have some fun in there too!
Is there a specific memory you have where you realized you were making an impact in Charlotte's life?
Sometimes I pick her up after school and I try to mentor her in many ways to build her up, so we talk about school. I remember when I was a child my mom and I would look at my school papers and talk about them, so I would help Charlotte with her homework and I started to see that she was writing about us. She was putting it down on paper and writing about her experiences with me and I have this book in my house that she was really interested in and wanted to read. I asked her to read it out loud for me and she picked out two quotes that I'm actually going to put in our recipe book and they're so profound. I thought to myself, "This little girl is a sponge. I've been given such a blessed opportunity to touch a life and she's like a little receptor." And that's why I think a lot about the things we do and build on where we're going.
Here's another story… When she first started coming over the house she was attracted to this little snow globe of New York City and wherever she'd go she'd always pick it up and have it by her, so I said "Charlotte, you're so interested in that" and she goes "Yeah, I am. I'm really interested in the Statue of Liberty". I figured it was a learning opportunity, so I grabbed my iPad and we continued reading about it and talking about New York. I spoke with our Match Advocate and asked if Big Brothers Big Sisters would approve of me and Eric taking her, we go a few times a year, and thought it would be wonderful for her to see some of these things that we talk about and that she's interested in, so we got permission to do it and we had an amazing time. We didn't make it to the Statue of Liberty, because it was Christmas and so busy, but we made it to the Freedom Tower, Times Square, and Rockefeller Center. We had a lot of great learning opportunities and she really loved, as did I.
If you could describe Charlotte in one word, what would it be and why?
Wow, she's so many things! I would say a rainbow. She's what comes out of the sky and lights up everything around her. She's all of the colors. She's got so many wonderful things about her. Either a diamond or a rainbow, both would work, but I'll stick with a rainbow.
Where do you see your relationship with Charlotte a couple years in the future?  Is there anything you hope to instill?
I know a lot of her interests and things that she likes to do, so I want to continue supporting her in the things that she's grounded in and also expose her to new opportunities and things that she may not have been able to see or have and make her feel good about who she is. I want her to know that anything is possible in life and I want her to have confidence so that she isn't afraid to take a step, leave the island, and know that she can do it all and has everything inside of her.
Is anything that you would like to add?
So many people say to me, "Thank you for what you're doing" or "Wow, what you're doing is so wonderful!", and I say to them, "Thank you for thinking this is me, but you have no idea how wonderful this is for me to do. The rewards I get back from our relationship and experiences. You don't even know until you get involved in a child's life." And it's different because it's not like your own kids and you get to come in and bring a whole different piece of yourself.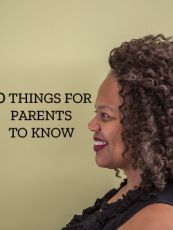 Free Fact Sheet
10 Things for Parents to Know
Children s safety is our number one priority; throughout the duration of the match, not just the beginning!
Get the Free Fact Sheet
---