Help Us Find Great Potential Bigs
With so much going on in our country right now, volunteering is a powerful way to show your support and have a direct impact on making your community a better place. As Bigs and supporters of our program, one way to help is to refer your friends, colleagues, and family members to volunteer as well. Not sure if they are right for our program? We've put together a few tips to get you started.
1) There's no Cookie-Cutter Age, Ethnicity, Education Level, Lifestyle or Background
We value diversity in our Bigs and love that they come from so many different backgrounds, enabling them to share their unique experiences with their Littles. Don't feel as though they need to be a part of any specific groups or even have a ton of experience with kids in order to be considered a great candidate for our program. Adding a Little is mentoring made easy!
2) Think About These Qualities
Think about what qualities make you such an awesome Big. Now which of your friends also possess those qualities? Well, the people in your life who you believe embody those qualities might be the perfect fit for our program.
Eager to contribute more to our community
Supportive, nurturing and positive
Actively interested in things- whatever those things may be!
Willing to share skills, experiences and conversation
Social and proactive when it comes to relationship-building
Dedicated and true to one's word
Capable of seeing things from someone else's perspective
Responsible adult, while still a kid at heart
3) Trust Your Gut!
The easiest way to determine if someone would make an awesome potential Big is just simply trusting your gut. When you meet someone with a clear passion to live fully, work hard, have fun, give back, and seems like he or she would make a great mentor for a young person, you'll know it.
Refer someone today here.
National Mentoring Month is the perfect time to call on both your personal and professional networks to get more involved in their communities, but these are a few tips that you can look to year-round. As a current or alumni Big you know what it takes to connect with a Little and develop a relationship that often transcends mentoring, blossoming into a genuine friendship. If all else fails, ask yourself one simple question–Would I have enjoyed having them as a mentor when I was a child? If so, then send them our way!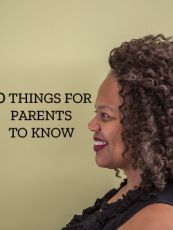 Free Fact Sheet
10 Things for Parents to Know
Children s safety is our number one priority; throughout the duration of the match, not just the beginning!
Get the Free Fact Sheet
---