5 Ways Becoming a Big Will Make You Feel Young Again
It's no secret that a large majority of our Bigs are college students and young professionals, but there's no cookie-cutter age, ethnicity, education level, lifestyle, or background for volunteers. In general, we would LOVE to see more retirees or older professionals volunteering in our program. They have plenty of life lessons to share with a child. There are so many benefits an older-aged Big can incur from their mentoring relationship, but today we are going to focus on a few of the fun aspects of mentoring a child and how it could help you re-live your glory days and feel young again. Enjoy!
1) Hanging Out With a Younger You
We make matches based on shared interests—not on a first come-first serve basis—so there's a great chance you'll see a little bit of yourself in your Little. Remembering how much you loved baseball or science experiments at their age will make you that much more excited to hang out. Especially when you're able to show them something that they wouldn't have otherwise discovered on their own.
2) Relive Some of Your Own Childhood Memories
Take some time during your outings to introduce your Little to some of your favorite activities growing up. Have a movie night and introduce them to some older classics like Mary Poppins and The Pink Panther. You can also drive around and listen to some classic tunes from The Beatles, Miles Davis, Bob Dylan, and Marvin Gaye to name a few. This will give you a chance to stroll down memory lane while introducing your Little to some of your childhood favorites.
3) Staying Active
As much as we hate to admit it, we tend to exercise much less than we once did in our younger years. Luckily, becoming a Big and staying active tend to go hand in hand. Riding bikes, playing catch, and walking tours of the city are regular staples in many matches, so you'll have no problem finding reasons to get up and go out!
4) Remain Social
It gets tougher and tougher to stay in contact with old friends as the years pass, but becoming a Big Brother makes it much easier to remain social. There's a massive network of Big Brothers and Sisters—both current and former—that are easy to connect with through our many events throughout the year, as well as through our 'Bigs only' social media channels.
5) Appreciating the 'Little' Things Again
As we grow older and life becomes more serious, we can forget to sit back and appreciate this amazing world around us. When hanging out with your Little, you will be able to see the world through younger eyes and get excited about the Little things in life again. You'll remember just how fun it is to see a paper airplane soar through the wind or feel the excitement of hearing the ice cream man approach.
Save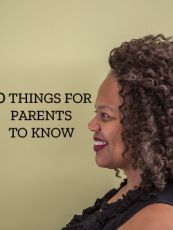 Free Fact Sheet
10 Things for Parents to Know
Children s safety is our number one priority; throughout the duration of the match, not just the beginning!
Get the Free Fact Sheet
---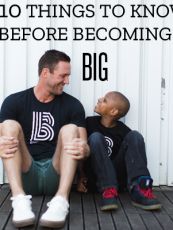 Free Fact Sheet
10 Things to Know Before Becoming a Big
Download this essential fact sheet to help prep for the volunteering process.
Get the Free Fact Sheet