Why I Ride for Team BBBSMB: Rodman Ride for Kids
Here at BBBSMB we are always looking to highlight awesome partners and opportunities for individuals to support the BBBSMB mission. This week we decided to highlight Rodman Ride for Kids, the largest single-day athletic fundraiser in the nation, along with our awesome riders who go the extra mile (or 25+) to do whatever they can to support the cause. Why ride with us? Well we spoke with Brittany Murphy, a Big Sister through Big Sister Association of Greater Boston and 4 year participant. She tells us a little bit about why she became a big, what drove her to ride for Team BBBSMB and some of her favorite memories with her Little Sister Amber.
Let's start from the beginning. When and how did you first get involved with Big Brothers Big Sisters? 
I first got involved in the fall of 2011 when I was working at Deloitte. They sent out an email about an information session and said they were looking for people who could be Bigs for the school based mentoring program. I'm in the audit side of the company and my job doesn't allow me to be in the office on a regular basis, but they informed me about the community based mentorship program that seemed to fit better with my work schedule. I talked to a cousin who was a Big Brother and I also have a roommate that's a high school guidance counselor, so they helped me make the decision.

Has being a Big Sister taught you anything? About yourself? About others?
I was an only child growing up and I was definitely more comfortable around adults. One of the things I had to learn as a Big Sister was to be able to laugh at yourself a little and keep calm even when you're in a stressful situation. I've also learned when to push my Little Sister Amber a little bit more versus when to back off a bit. It can be very rewarding when we both can come out of our comfort zones a little bit.
One time I picked her up and the activity we had planned was to go kayaking on the Charles River, so she got in the car and I asked if she was excited to go kayaking and she said, "No". I asked her why she wasn't excited and she said, "I don't know how to kayak. I can't kayak and I don't want to kayak". Things got worse when I told her that we weren't going to be in a two person kayak and that we'd each have our own… During a training session we were told that sometimes kids won't like the activity, but tell them to try it for 15 minutes and if they don't like it you guys can try something else. I told her that we were going try it and we were out there on the Charles River! At one point I had made a comment that we were going to have to write in a 'thank you' card when we brought the kayaks back and Amber blurted out, "We don't have to bring them back yet, do we?!"
We ended up having a great time.You have to know you're Little and it takes confidence in yourself to know when to push them a little beyond their comfort zone.
What were the driving forces behind your decision to participate in the Rodman Ride for Kids?
When it comes down to it there are two things that are going to make this program operate. You have to have the people involved, the Bigs, the Littles, and the staff, but you also have to have the money. You can have one or the other, but you need both to be successful. When I think about the Rodman Ride, this is a great way for me to support a program I believe in financially through the fundraising that's done. You always hear about the need for more Bigs and kids that have been wait listed, but there won't be more matches without the financial backing to support them. You can have plenty of volunteers ready, but if you don't have the correct amount of staff to appropriately support those matches it's just not going to work.
Do you and Amber have to motivate/push each other to complete the ride? If so, how?
This is going to be our fourth year doing the Rodman Ride. The first year she was a freshman in high school and was super excited, but it took a little convincing to get her on board this year, because last year she got a cramp around the 23rd mile and it was really painful. So this year was one of those times when I felt like I needed to push Amber a bit. She's a senior in high school, she's very excited about graduating from high school and going off to college and this is an awesome thing to have on her resume for applying to college. I also talked to her about things we could do this year to help her avoid getting a cramp this year like drinking lots of water ahead of time and getting adequate electrolytes in her system. Most importantly, she's a beneficiary of this program and this is a way for her to give back to a program that she's benefited from.
Do you have a favorite experience or memory with Amber during the Rodman Ride? How about in general?
We really look forward to reaching the halfway point. We take some photos there by the lake and I try to take photos all along the way to upload to my fundraising page. I also include those photos in letters I send to people whom I don't have an email for and that's how I get nearly half of my donations. And we definitely look forward to reaching the finish line. They always grab a picture of us and it's a great accomplishment for Amber and myself.
We were lucky to win one of the raffles to go sailing on Boston Harbor and these were small sailboats that fit approximately five people, so it was us, another match, and the sailor who was going to be taking us out. I remember when Amber was going to get on the boat she was clinging to me a little bit and I grew up going on boats, so getting on the boat at the dock doesn't faze me, but this was something new for Amber and there are two things from that day that really stuck out to me. The other Little Sister had never been on a boat before, so she was extremely nervous whenever the boat would tilt from one side to the other and she didn't know how to swim. We all had life jackets, but she wasn't a very confident swimmer and I remember Amber just reaching out, putting her arm around her and letting her know that everything was going to be fine and we were going to have a good time. It was great seeing how good she is with younger girls and younger kids in general. Amber even took the tiller that day and was sailing the boat, helping us tack and jive, and the confidence I saw in her was just amazing. When we got off the boat she went from clinging to me to just jumping off the boat with no problem and you could just see how much confidence she got out on the water in that short amount of time.
Do you have any advice for people considering participating in Rodman Ride next year?
I'm not a huge biker, so I don't do any rigorous training leading up to the ride, but I spend a good amount of time on the fundraising side of things. My advice would be to make sure you explain why you want to participate in the Rodman ride and definitely show your gratitude whenever somebody donates money. Whether it's $5 or $100. I send Thank You emails to everyone and then I also send out Thank You cards with photos of Amber and I from the ride. The photos definitely help share the experience with people and they really remember that.
I send out that letter and I put a self-addressed pre-stamped envelope in the letter to make it easier for people to donate if they'd like to and I found that it makes a huge difference.
What other activities do you and Amber enjoy doing the most?
Amber's a big fan of Harry Potter and I love Harry Potter as well, so we'll have movie nights. We've done pottery and painting. Amber loves history which is awesome, because I love history, so we've done the Freedom Trail. We've also been to Skyzone and have gone kayaking several times. I definitely try to take advantage of the outdoor activities during the summer and save some of the movie nights for the winter time, and they vary. I'll save what I consider more special activities that will cost a little bit more for birthdays, so we went to see Blue Man Group for Amber's 18th birthday this summer and I try to balance simple activities like watching movies at my apartment with more structured activities when we go out and do stuff. I also try to leverage Groupon which is great for finding low-cost activities. Amber and I were matched for little over a year and that Christmas I made a scrap book for Amber with a bunch of photos and it's a really nice scrap book. People were amazed, because usually people stop after two pages and this one is nearly the entire book full of photos. I didn't completely finish it and there were still some pages left, so she came over and we had more photos printed to finish off the scrap book, transitioning it from just me working on it to an activity we could do together.
Is there a specific memory you have where you realized you were making an impact in Amber's life?
I'd say it comes over time. I don't have one specific memory that comes to mind, but I remember emailing her mother after the first year that we participated in the Rodman Ride telling her how great Amber did and she emailed me back saying that it was really a self-confidence booster for Amber and it's a great thing for her to be proud of, telling all of her teachers at school, so I look at instances like that. When I think back to when we first met to now she's definitely grown and matured, so I'm really happy to see that.
Where do you see your relationship with Amber a couple years in the future?  Is there anything you hope to instill? (This could be a standard for most interviews too actually)
Amber is going to be a senior in high school and she just turned 18. She's on course to graduate from high school and that's always been a goal of mine, so something I see moving forward is being there, watching her graduate, and then really assessing where she goes after high school, what she decides to do, and being there to support her during that time. It's a transition, it's a new chapter of her life and all I want is for Amber to be happy and get the education she needs to fulfill a career that's challenging for her, but also rewarding.
The 25th Annual Rodman Ride for Kids is taking place on 9/26 in Foxboro, MA and it isn't too late to sign up! Interested in riding for Team BBBSMB? Go here for more info and you can be a part of something Big too.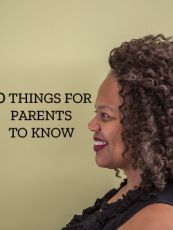 Free Fact Sheet
10 Things for Parents to Know
Children s safety is our number one priority; throughout the duration of the match, not just the beginning!
Get the Free Fact Sheet
---